The Marriott Theatre's new production of Beautiful combines the intriguing story of Carole King's extraordinary life with a captivating soundtrack and dazzling performances. A must-see!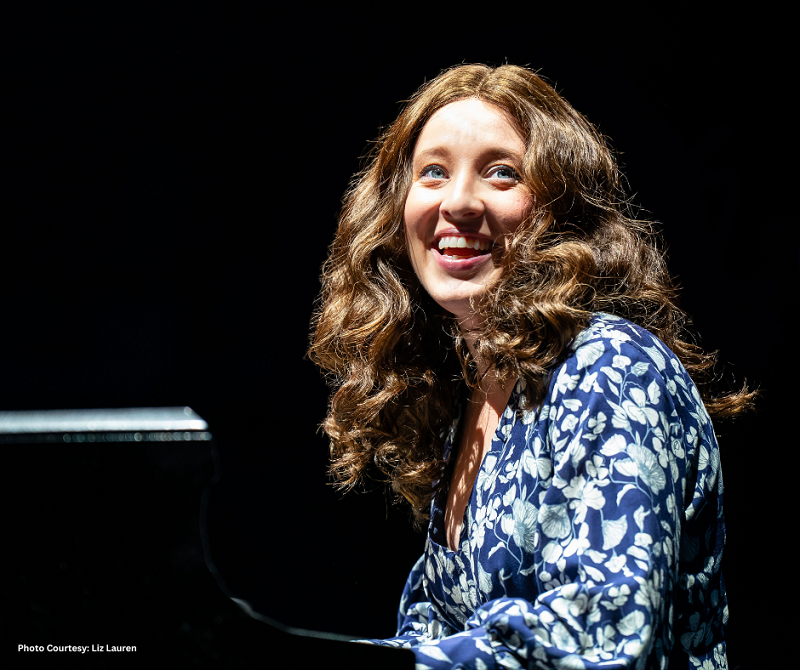 I absolutely love musicals. When I attend any show, I am subconsciously hoping for the moment or the voice that gives me goosebumps. It doesn't happen during every piece that I enjoy, but when it does happen, it's something I'll never forget. In Marriott Theatre's new production of Beautiful, Kaitlyn Davis' connection with Carole King's music along with some specific songs and notes made the hair on my arms raise right up.
Beautiful: The Carole King Musical is a jukebox musical that centers around the music and life of Carole King (formerly Carole Klein, who took the former as her stage name at 16 years old). Along with music written with co-writers and friends, this show compiles a great many songs that are performed by both these characters as well as the performers they wrote them for.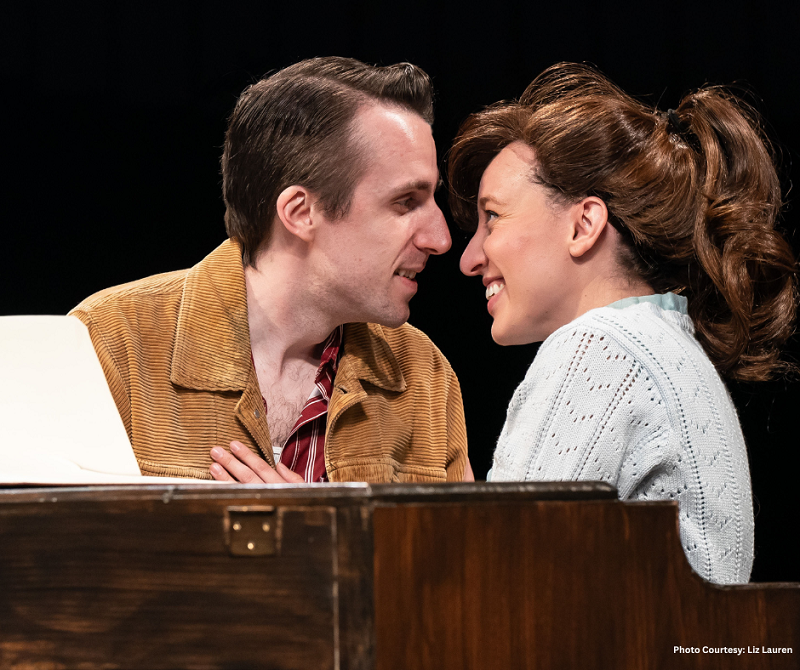 We first meet teenage Carole as an insecure young woman and aspiring songwriter who skipped two grades and had already started college. Living with her mother, Carole convinces her that she needs to go to Times Square to meet with Don Kirshner, a music publisher, to sell her latest song. No one else has been interested and this will be her final shot at being able to do what she loves. With the agreement that if she doesn't succeed at this meeting, she will continue her education to become a school teacher, she sets off on her way.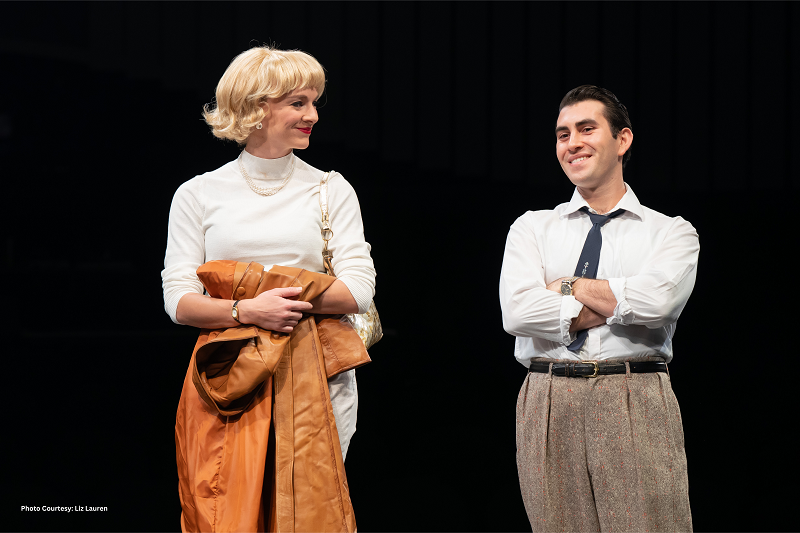 Along with love interest (and later husband) Gerry Goffin (played by Andrew Mueller), Carole King writes and sells many of the hits of the 60s. In competition with friends and writing duo, Cynthia Weil and Barry Mann (Erica Stephan and Justin Albinder respectively), the music and lyrics continue to churn themselves out.
As her marriage becomes turbulent and she works towards a new path, Carole begins to write songs on her own again. By the end, with some encouragement from others and catharsis with Gerry, a freer Carole ultimately comes into her own strength and power.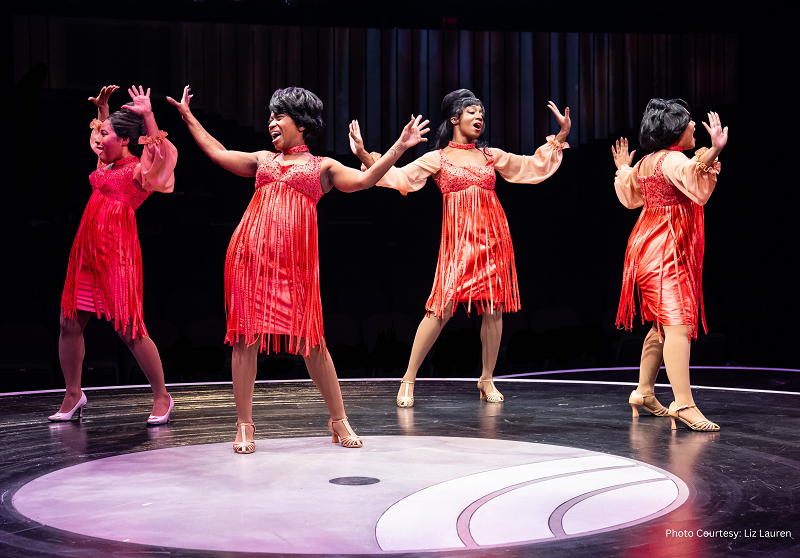 This production of Beautiful is full of emotion regarding Carole's life and challenges, but it is also chock full of music and vibey performances. Some songs are a bit less well known (although well-performed and engaging) and others are staples on the radio like "Will You Love Me Tomorrow," "You've Lost That Lovin' Feeling," "The Loco-Motion," and "It's Too Late."
One of the most entertaining things about this show is getting to see different musical groups sing the written songs themselves. The Drifters, The Righteous Brothers, The Shirelles, Little Eva – all wearing jazzy outfits and allowing you to experience them like they're on American Bandstand.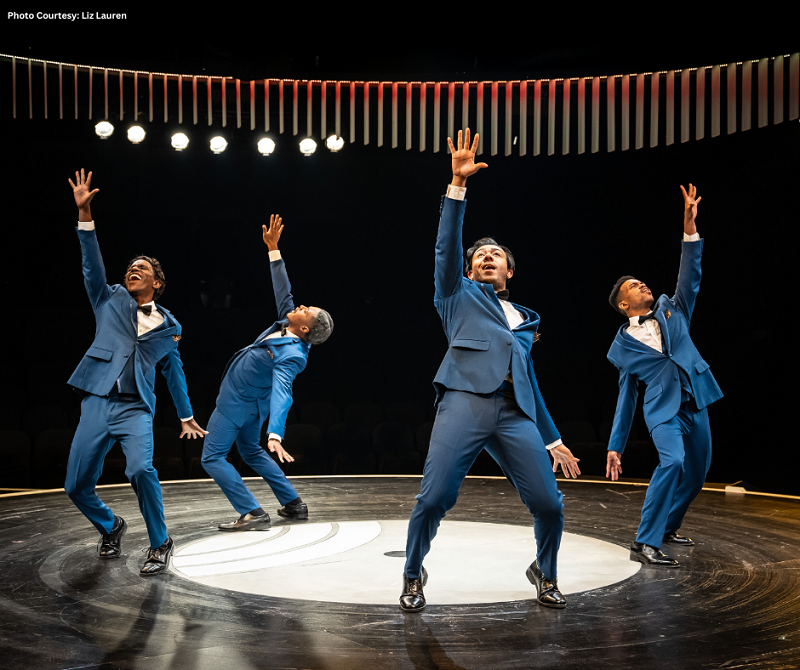 What's even better is that they perform it on a record. The center of the Marriott stage has been designed as a genuine record on a turntable. Much of the time while the artists are performing their hit songs, they are singing and dancing on what is seemingly their own moving record. It is an excellent addition to an already charming musical show.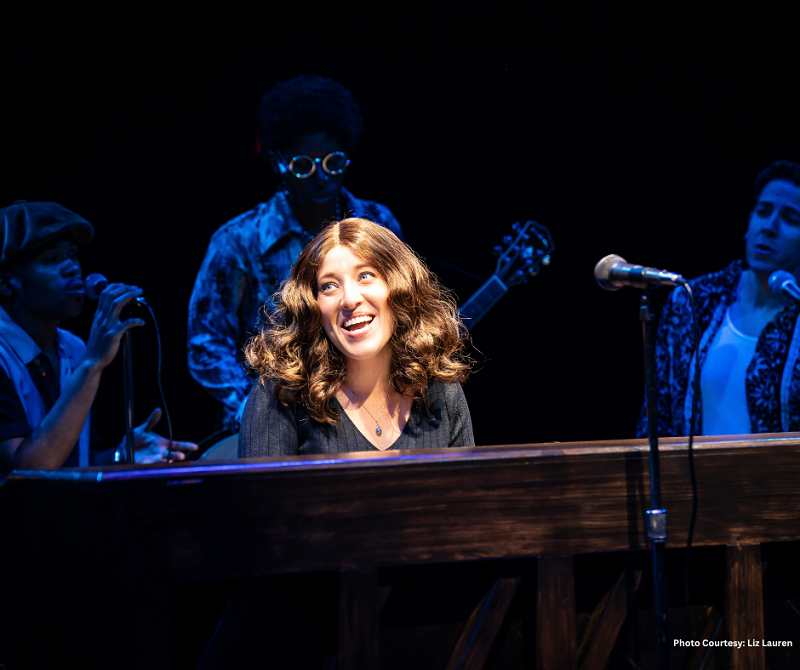 But the standout in this production is Kaitlyn Davis as Carole King. Having previously played the role in the national tour of Beautiful as well as Broadway at Music Circus, Ms. Davis falls into Carole King's essence and voice effortlessly. With soul-penetrating musical moments, this star-making performance will leave you with goosebumps just as it did with me.
Beautiful: The Carole King Musical runs for approximately 2 hours 30 minutes including a 15-minute intermission. It is the perfect show to see in the final months of 2023 and will leave you with the hope and internal peace that Carole finally got to experience at the end of her own journey in this production. You'll be glad you went!
Marriott Theatre: Beautiful: The Carole King Musical Review – Beautiful: The Carole King Musical is playing at Marriott Theatre through 12/31/2023. Tickets can be purchased through the Marriott Theatre website or by calling (847) 634-0200. Marriott Theatre is located at 10 Marriott Drive in Lincolnshire.