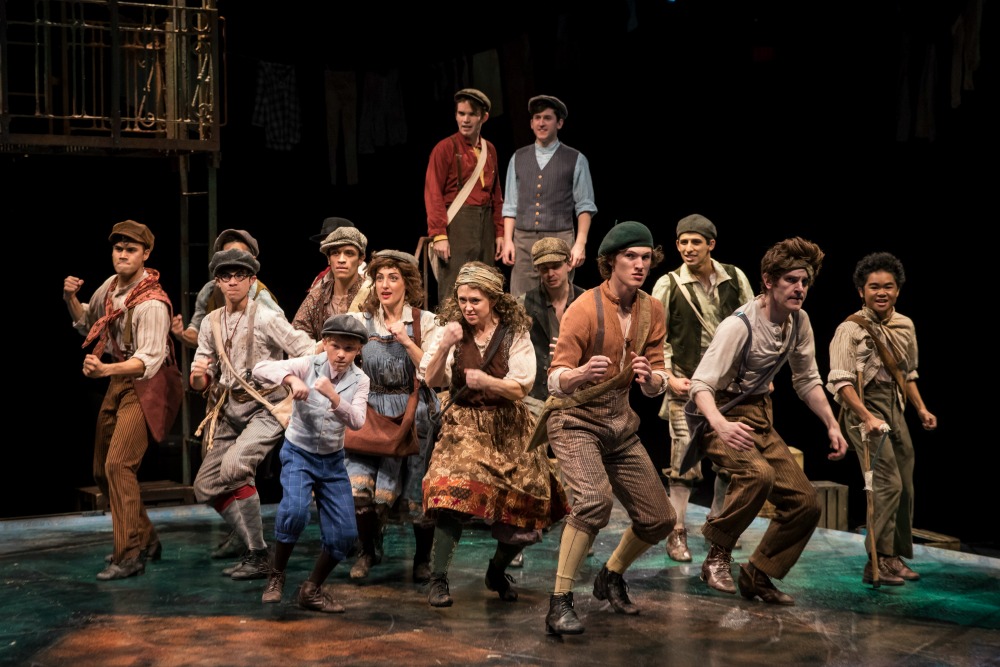 When I first heard that Marriott Theatre was going to do Newsies, I'll admit that I was a little nervous. This is one of my 12-year old son's very favorite shows, so both he and I have watched and listened to it a lot. We know the music and lyrics by heart, are familiar with the Broadway choreography and have set ideas about what we love (or don't love) about different pieces of the show. Better put, we are big fans. So entering into this performance, my son as my date, we were each unbelievably excited, but secretly nervous. Luckily, we quickly found that we had no reason to be.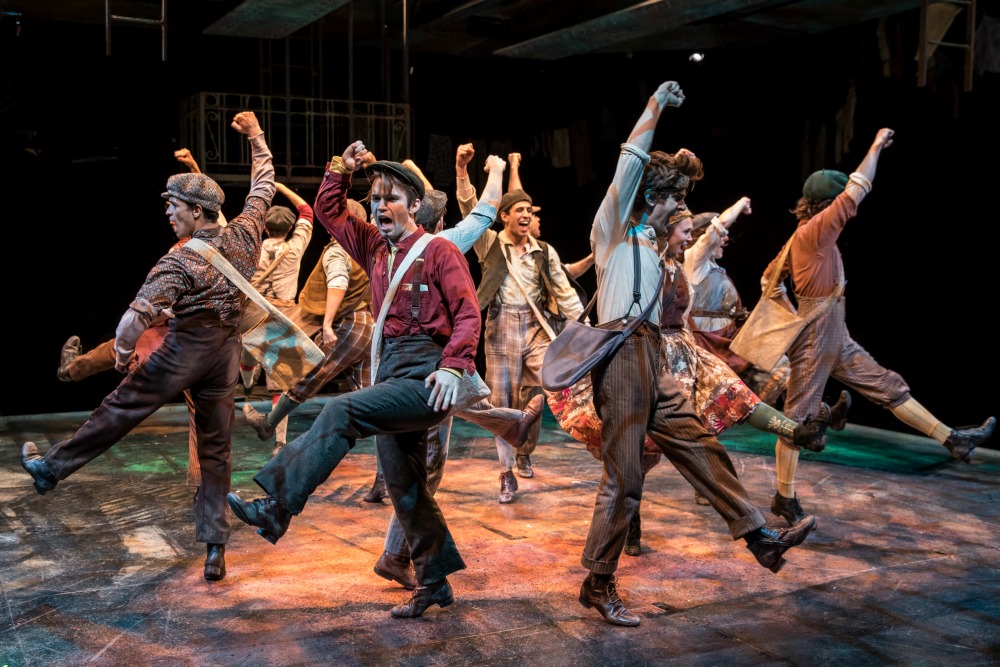 Marriott Theatre's production of Newsies is nothing short of electric. The voices, the staging, the choreography, the humor, the energy – all on par with our hopes and expectations. To be clear, this wasn't an easy thing to achieve! A show that is a great fit for everyone, Newsies brings history to the stage and allows you a peek into what it may have been like for the newsboys in 1899. While the main characters and romantic storyline are fictional, many of the circumstances, oppression and newspapers are right out of the history books.
Newsies is the story of Jack Kelly, one of many newsboy orphans who live on the streets of Manhattan. These young men and women sell newspapers to survive, and count on an exciting headline each day in order to promote them. When Joseph Pulitzer, the publisher of the New York World, increases the price of papers, the newsboys learn that they will have to sell more just break even. With his best friend Crutchie, his fellow newsboys, new friends Davey, his little brother Les, and a reporter named Katherine at his side, Jack Kelly leads the New York newsboys in a strike.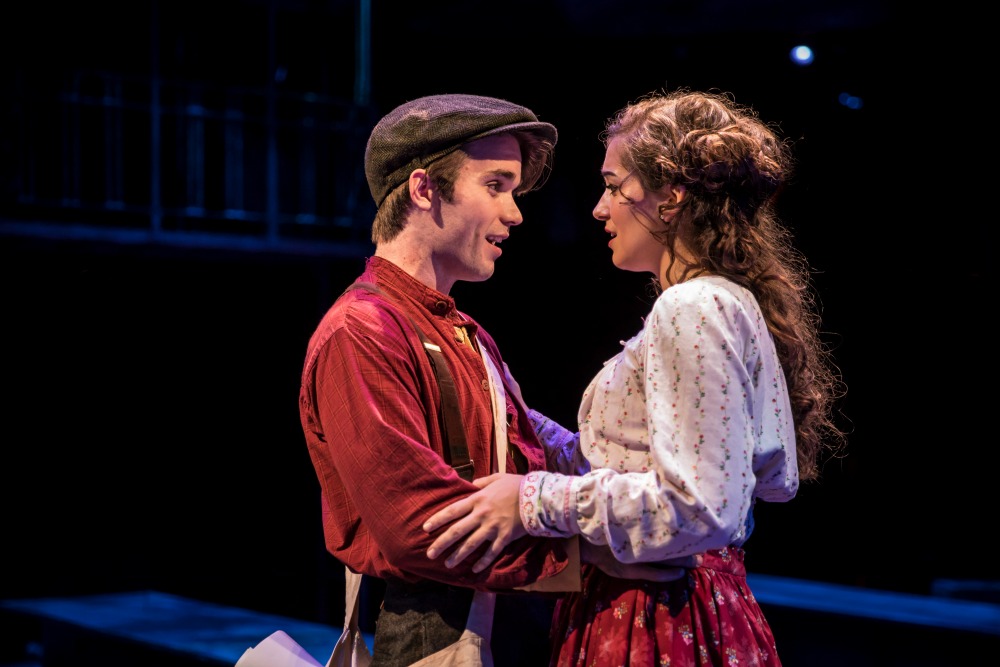 The leads of this show are cast beautifully. Patrick Rooney as Jack Kelly is smart, street savvy, and flirtatious, while bringing forth a passion for everything he believes in. Eliza Palasz's Katherine is a modern woman before her time who wants to be appreciated for her talent and seen for who she really is. Their chemistry is palpable and the characters challenge each other in such an charming way that you can't help but smile.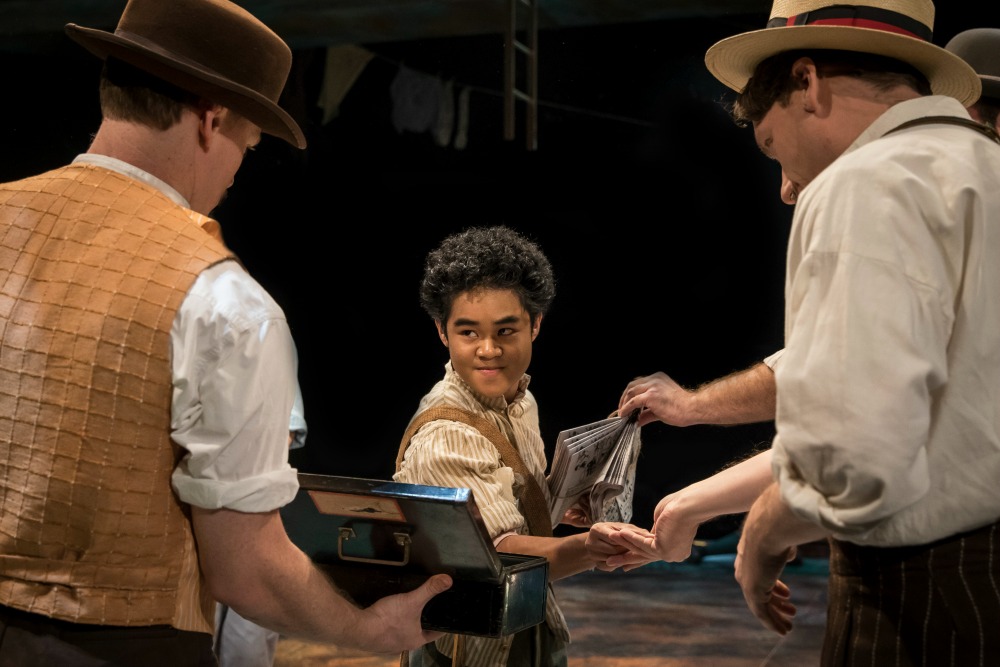 This performance has a great number of showstoppers – a rare feat for most shows. "Carrying the Banner," "The World Will Know," "Seize the Day," "King of New York," and "Once and For All" each contain incredible group choreography, harmonies, and energy that can't be matched. Ms. Palasz's version of the vocally complicated "Watch What Happens" had both my son and I looking at each other with a mutual exclamation of, "She killed it!" Matthew Uzarraga's Crutchie is so endearing that by the time you get to "Letter from the Refuge," you are almost in tears.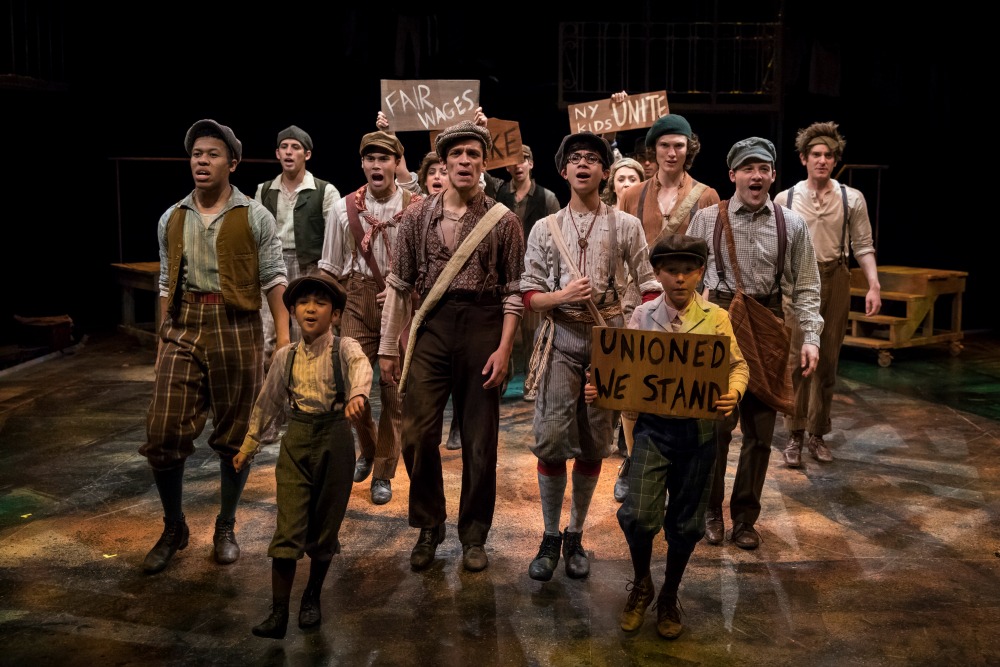 In short, this performance is one that you need to see. Newsies is an excellent show for introducing anyone to musical theatre or just greatly enjoying a night out, so be sure to get tickets while you can! Between the acrobatics, incredible dance numbers and humor in the show, you'll be sad that it's over when the cast takes their final bow. Enjoy the ride!
Marriott Theatre: Newsies Chicago Review – Newsies is playing at Marriott Theatre through 12/31/17. Tickets can be purchased by calling (847) 634-0200. Marriott Theatre is located at 10 Marriott Drive in Lincolnshire.