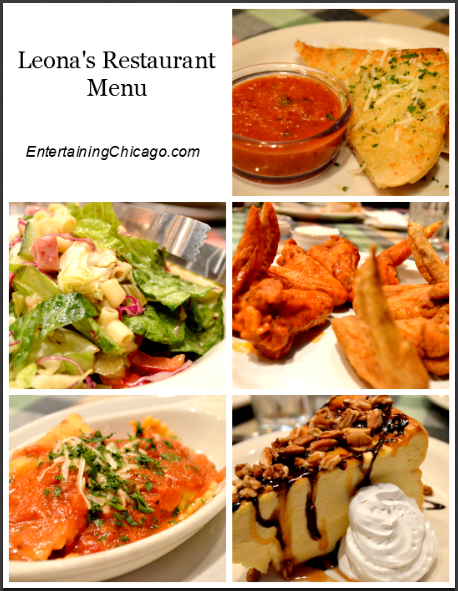 If you are a Chicago native, you've heard of and probably been to Leona's Restaurant. Leona's has been a staple in Chicago since 1950, but you might agree with me that it's had it's ups and it's downs. I used to go to Leona's as a child with my family because we loved the garlic salad dressing, but over the years my attendance there has dwindled. They always had good food, but living in Chicago, you have a lot of choices and sometimes "good" isn't good enough. Now however – and under new ownership – there is a new Leona's Restaurant Menu available!
I was recently invited to check out the new Leona's Restaurant Menu and I have to tell you, I was impressed! Let me give you a rundown of some of the best dishes I found:
The "15 Minute Jumbo Wings" are amazing. I am a huge wings girl and I'm very finicky about both sauce and the crispiness on the skin of the wing. These really were amazing. Very meaty, intense buffalo sauce (perfect for the wing lover, but possibly too spicy for the "mild" audience!) and the perfect skin crispiness. You'll also notice that these are jumbo wings, so they come with three entire sections instead of just the drumstick you're used to from other restaurants.

The "Kick Ass Garlic Bread" (yes, that is it's proper name) has always been on the menu, but I think it's better now than it ever was. This is a homemade ciabatta bread that is coated in garlic butter and Romano cheese and baked. One order of this will not be enough! You will have to like garlic to be a fan, but truly, you won't be sorry!
I also hugely enjoyed the Calamari Fritti (served with parmesan cheese and sun-dried tomatoes.) Leona's made a point of letting me know that they serve only the rings (as opposed to the tentacles and rings) because they are meatier and typically a better quality. I like Calamari and these proved to be well cooked, not fishy tasting in the least and appealed to even the non-fish lovers of the group! If you don't typically order Calamari, give these a try.
My next favorite item on the Leona's Restaurant Menu was the Italian Beef. I know what you're thinking, "Do I really want to order an Italian Beef sandwich at a pizza place?" The answer: Yes, you do. The Italian Beef sandwich is served on the "Kick Ass Garlic Bread," so you're not only getting an Italian Beef sandwich, you're getting amazingly buttery, garlicy, Italian Beefy goodness. There's just no other way to say it. (And for the record, the Chicken Parmesan is ALSO served on the "Kick Ass Garlic Bread," so take your pick!!)
There are a lot of enjoyable entrees on the menu (including the Shrimp & Basil Ravioli – Yum!), but I have to get to the dessert. I am not a coffee drinker and I've never enjoyed Tiramisu, so I almost never order it. I put a bit of my fork into the Leona's Tiramisu and went back for more. I kid you not, it was fantastic. This is on the sweeter side and has a bit of a cakey taste vs. the typical coffee bitterness that I tend to experience. Whichever camp you find yourself in, I think you'll appreciate it. This is one of their signature dishes!
Leona's is available for dining in, take-out and delivery. They currently offer 15% off any online order through their website and there is a dine-in coupon for 50% off any pizza after 5PM. Use these coupons and experience the Leona's Restaurant Menu all over again!