The Who's Tommy is a marvel that everyone needs to see! A thrilling theatrical production that is playing at The Goodman Theatre for a limited time!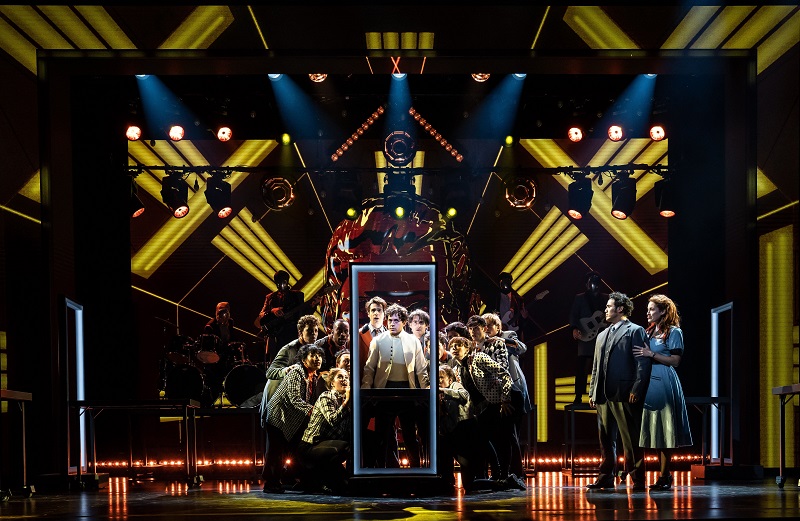 My stomach was in knots and my adrenaline was pumping as I walked into the Goodman Theatre to watch the new production of The Who's Tommy.
Full disclosure – Tommy is one of my very favorite musicals. A Broadway show that I first saw in 1994, it has left an indelible mark on my heart that can never be erased.
Tommy is the story of a boy named Tommy Walker. After his father is assumed dead while at war, Mrs. Walker moves on with a new man. One night, while 4-year-old Tommy is in bed, his father returns from where he has been held captive and encounters his wife with her boyfriend. A fight ensues, Tommy walks out of his room, and while facing the mirror, witnesses his father murder the other man.
His parents' reaction is to cover up the crime, and in doing so, further traumatize Tommy by telling him to completely erase the memories of hearing it, seeing it, and never to speak about it ever in his life. This leaves him – in The Who's words – deaf, dumb, and blind.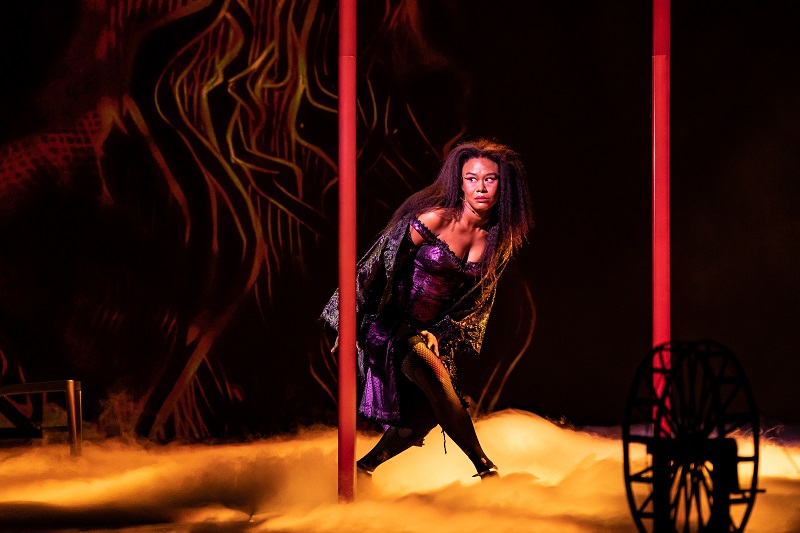 Throughout the show, Tommy is further traumatized by his Uncle Ernie, Cousin Kevin, and various other characters – many of whom have nefarious motives. Captain Walker also pushes the boundaries of parenthood by being willing to do almost anything to "cure" his son.
During this time, it is discovered that Tommy has an inhuman knack for playing pinball and eventually – after he is awakened and free from his unresponsive state – becomes a celebrity. He then follows the rise and fall that comes with fame, ending in a resolution with much of his family.
All of this is framed within a magnificent, striking, and soul-captivating rock opera with music that grabs hold of you in the best way possible. So when I got to the theater, I was very excited and worried. I had high hopes and lots of trepidation. When you are attached to a piece of art in any form, you have expectations, ideas, and dreams for what you want from the production. In the end, what I experienced was even better than what I'd wished for.
This production of The Who's Tommy has been done with the blessing and involvement of The Who's Pete Townshend, who originally wrote the music and lyrics for the show. He also wrote the original book along with Tony Award winner Des McAnuff, who is the director of this production. And with choreography by Lorin Latarro, you couldn't ask for a better dream team.
The staging of the show is engaging and exciting, with pops of the color yellow in a nod to Tommy's signature color from the 1990s production. It is set both in the past and the future, often at the same time, as we meet 4-year-old Tommy, 10-year-old Tommy, and adult Tommy.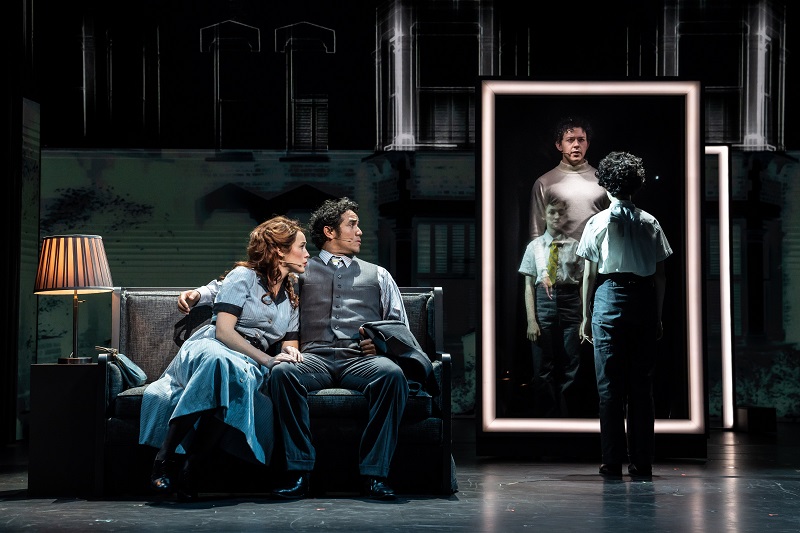 While the set is somewhat stark, it is met with a timeless feel that enables the audience to exist in the mirror-world with Tommy as well as able to grasp what is going on around him. Projections of different locations, photographs, documents, and a video feed from a news camera include the audience on an additional level.
The music is loud, as it should be. This is not music that you want in the background – it is rock music that should surround you and draw you into the experience. It could not have been any better and was played flawlessly by a 9-person orchestra.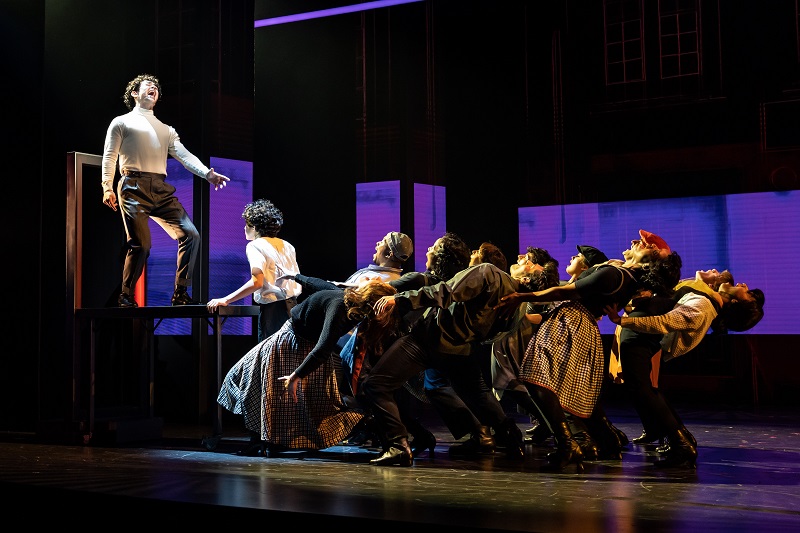 The energy on the stage is palpable, particularly in the larger ensemble scenes. It would be impossible to choose the best number or the best performer (because they are all that good), so let me identify two songs that stood out to me in this production.
First, "Eyesight to the Blind," a song that involves two pimps trying to coerce Captain Walker into bringing Tommy to meet their woman. The song itself (performed dazzlingly by Sheldon Henry and Daniel Quadrino) has a harmony of the two voices that is possibly unrivaled by any other harmonies in the show.
Second, "Pinball Wizard," which is easily the most well-known song from Tommy, is a performance piece that I would buy tickets to see all by itself. With almost all of the cast on stage, dancing and moving at full capacity, singing their hearts out to the rhythm of the incredible band, it is unmatched in its impressiveness.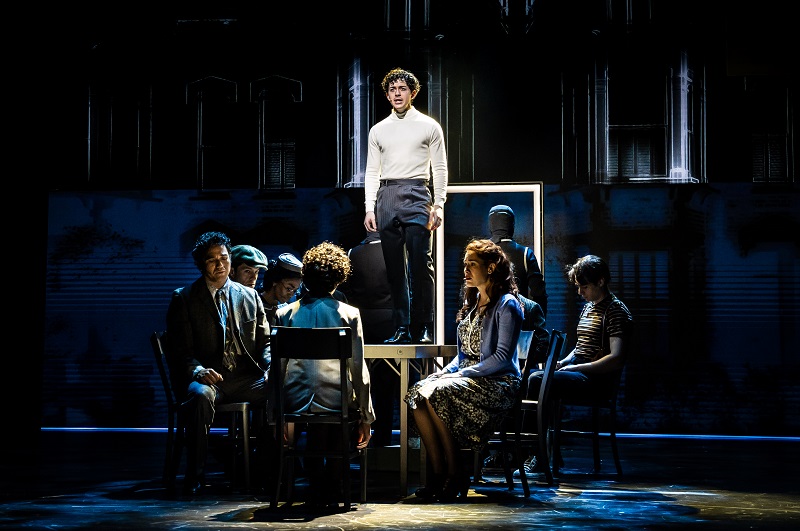 All of the performers – from principal roles to the ensemble – are brilliant vocalists. Ali Louis Bourzgui's Tommy is a magnetic and welcoming narrator, Alison Luff and Adam Jacobs (Mrs. and Captain Walker) let their voices shine even further in the second act, John Ambrosino's Uncle Ernie is an antagonist with more layers than I remember having seen in the 1990s production, and Bobby Conte's Cousin Kevin draws the eye whenever he's on stage.
This is a show that is not to be missed. At the end of the performance, one only wishes that it would start again so that you could be back in the world of The Who's Tommy. Get your tickets quickly, as it will sell out!
Content Advisory: This show includes depictions of child abuse, bullying, suggested sexual and substance abuse, and scenes of war. This production includes loud music, multiple gunshots, theatrical haze, as well as strobe and flashing light effects.
Goodman Theatre: The Who's Tommy Chicago Review – The Who's Tommy is playing at The Goodman Theatre through 8/6/23. Tickets can be purchased at a discount through Goldstar, on the Goodman website, or by calling (312) 443-3800. Goodman Theatre is located at 170 North Dearborn in Chicago.