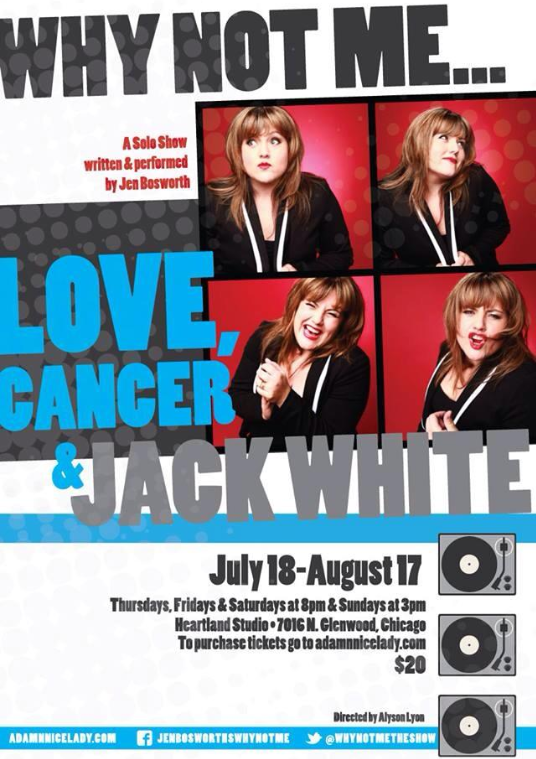 If you're looking for some new theatre, be sure to check out this new show by Jen Bosworth, Why Not Me…Love, Cancer and Jack White. Playing at the Heartland Studio, this is a one-woman-show both written and performed by Ms. Bosworth.
"Why Not Me…Love, Cancer and Jack White" is one woman's hilarious and hopeful romp through life's heartaches, headaches and hysterics. In her critically acclaimed one woman show, Jen Bosworth's irreverent and hilarious "Why Not Me" details her adventures as a failed actress in Los Angeles; her stint as Academy Award Winner Nicolas Cage's Office Manager; and her journey as the caretaker for her feisty and determined Colombian mother as she bravely fought, but eventually succumbed to metastasized breast cancer. When Jen's mother, Ines's cancer returned they asked "Why us? Why is this happening to us?" And then one day Ines turned to Jen and asked, "Why not us? We are not so special. Why shouldn't tragedy touch us?" "Why Not Me" is the inspiring tale of what it takes to accept ourselves, love others, and go bravely in the direction of our dreams. It is the story of accidentally finding spirituality. Ultimately, "Why Not Me" is about turning our hardships and tragedies into gold. Banged and battered gold, but gold nonetheless.
Heartland Studio Theatre is located at 7016 North Glenwood in Chicago and performances run Thursday-Sunday between now and August 17, 2014. Purchase tickets here prior to performances.