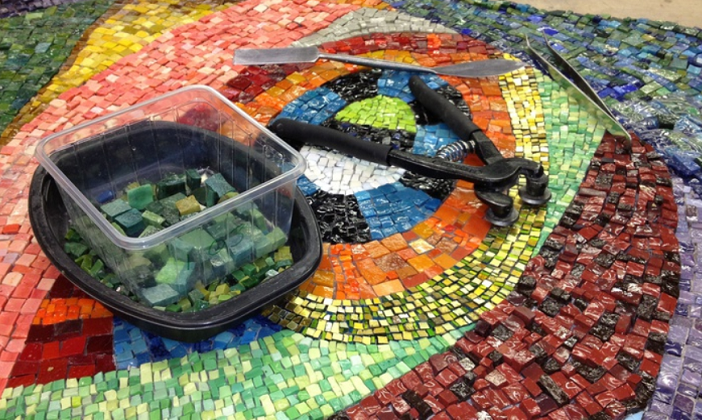 One of the hidden gems in Chicago is The Chicago Mosaic School. This is an intimate location with talented instructors who will open your eyes to a way of creating art in a way you may not be familiar.
Since opening in 2005, the Chicago Mosaic School has promoted the academic study of the art form is fostered through classes that cover topics ranging from introduction to mosaics to glass-on-glass window mosaics and the Ravenna technique to recreate historic works. Spanning more than 7,500 square feet in size, the facility features classrooms, studio spaces, a library, and a gallery. The faculty comprises both professionally trained resident teachers and visiting artists, who lead seminars about their creative specialty. It's here where they explore all facets of mosaics—from classical reproduction to contemporary abstraction. The space has attracted the attention of international mosaic instructions from countries including England, France, Japan, and Australia. Inside, students with beginner to master skill-sets immerse themselves in workshops that allow them to grow their talents in the art of mosaic craftsmanship. Additionally, Chicago Mosaic School preserves and promotes mosaic art through school programs, community partnerships, and teacher training programs.
You can currently get up to 48% off your purchase of classes at The Chicago Mosaic School:
Consider buying the class for two as a gift and spend some quality time with your spouse or a friend!
Limit 1 per person, but you may buy 2 additional as gifts. The Chicago Mosaic School is located at 1800 W Cuyler Ave. in Chicago.