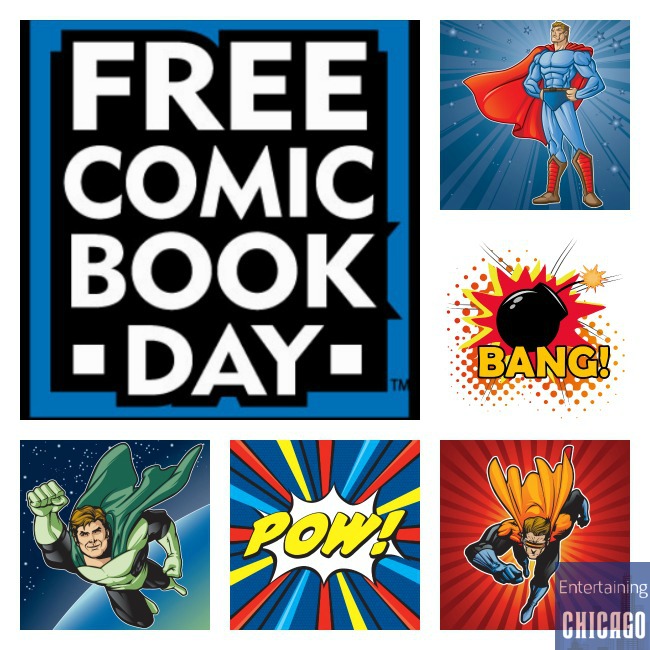 Free Comic Book Day 2014 is upon us, so it's time to mark your calendars, Chicago! This year, Free Comic Book Day is Saturday May 3rd.
If you aren't familiar with it, Free Comic Book Day is a day where you can visit participating comic stores and receive a completely free comic book! Some stores also provide additional events or sales, so you will want to be sure to check the free Comic Book Day 2014 store locator to make sure you know what to expect and what time you might want to plan to arrive.
In the Chicagoland area there are a bunch of stores participating, so you should have no problem finding one that's accessible to you. A few of the stores I've looked through on both the North and South sides have creator appearances, sales, food and/or entertainment in addition to the free comic book giveaway. Mark your calendars and make a day of it!
One thing to consider when planning for free Comic Book Day 2014 – think about bringing your child, nice, nephew, grandchild or a young friend with you to this event. Comic books are a great way to get children reading – particularly those who either struggle or really have no desire to engage in a book. Many kids have never been to a comic books store or seen an actual comic book. Exposing them to this kind of an event might just open up their world to lots of new possibilities. And speaking as a parent myself, there is nothing better than when my kids are climbing all over each other to tell me about something great that they experienced. This is an easy way to give them something fun to do while giving them the gift of reading on the sly. And even better, since Free Comic Book Day is now a yearly event, you can make it an annual tradition for your family!
Interested in more free activities that you can do around Chicago? Read about those here.