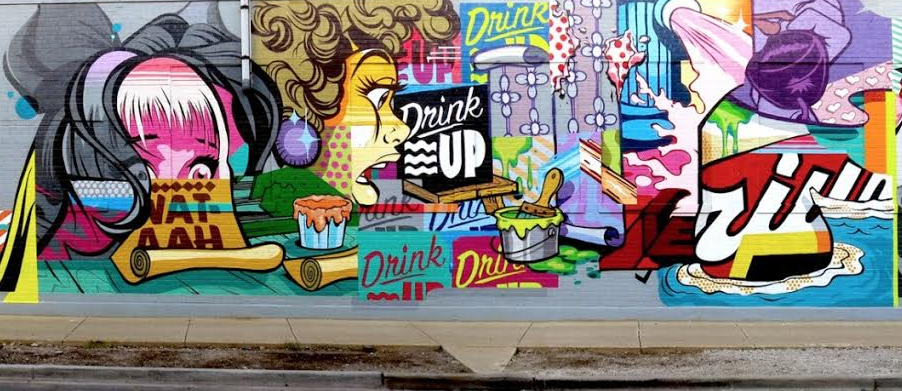 If you're looking for something to do this weekend, make some time to go over to the WAT-AAH! Taking Back The Streets art event at Moonlight Studios! This will be a weekend-long free art exhibition located at 1446 W. Kinzie St. Launched as a way to encourage everyone to drink more water this summer, the exhibit is an extension of the ongoing WAT-AAH! Taking Back the Streets traveling art campaign.
Featuring work by some of the nation's preeminent street artists including POSE, Hebru Brantley, Kenny Scharf, Shepard Fairey, Swoon, Lady Aiko, Eric Haze, Maya Hayuk, and others, the WAT-AAH! Taking Back the Streets art exhibit will invite guests to look at a variety of original artwork and WAT-AAH! bottles created with custom-designed labels. Saturday, July 19th and Sunday, July 20th the exhibition is free and open to the public from11 a.m. to 7p.m.

The WAT-AAH! exhibiton at Moonlight Studios marks the culmination of the Chicago leg of the WAT-AAH! Taking Back the Streets initiative. Earlier in the month, WAT-AAH! unveiled an eye-catching #WATAAHWALL mural in Chicago's West Loop, which was created by street artist POSE and five art students chosen by the University of Chicago's Arts Incubator Design Apprenticeship Program (DAP).  The 75' by 15' mural can be found at the intersection of Lake and Racine.

The Chicago WAT-AAH! Taking Back the Streets art exhibition is a continuation of the company's groundbreaking national art campaign that connects today's leading street artists with the brand's mission to fight childhood obesity and promote healthy hydration among kids and teens.
Again, this event is completely free on both Saturday and Sunday, so take a look around and think about bringing the kids! We need to get everyone involved in the fight against childhood obesity and healthy hydration!