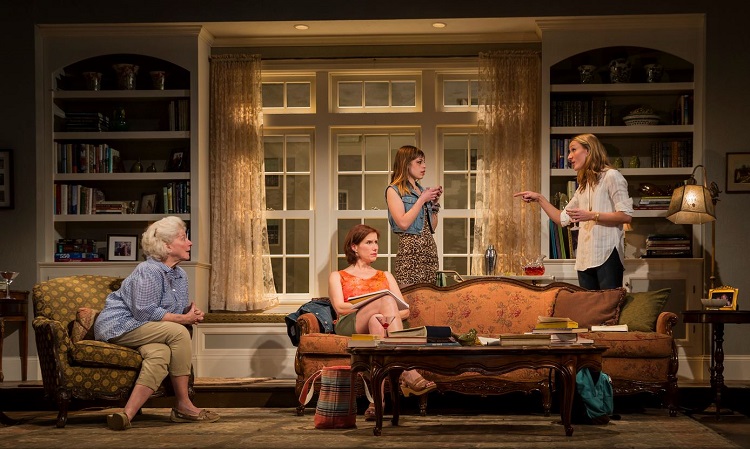 Being a woman isn't easy. I say that not because I have  preconceived notions about what a man should be, but because in this day and age, the expectations put upon women haven't changed that much. As a child, I was raised to believe that I could be anything that I wanted to be if I just worked hard enough. I went to college, I got my graduate degree and then I got married and had a baby. After my son was born I was faced with a question that I never expected – did I want to forgo all of my personal dreams and dedicate 100% of my time to raising my child? If I answered yes, did that mean that I was making a sacrifice for my child in spite of my own ambitions? If I answered no, did that make me a bad mother?
Goodman Theatre's Rapture, Blister, Burn addresses this exact question – what expectations do we have of ourselves and what does society expect in this arena? Is there a healthy place in the middle where a woman can be both a successful mother and wife as well as a successful career-person? And if she is successful in both or either capacities, can she also be happy?
The subtle, poignantly written and artfully portrayed show creeps up on the viewer and delves into the psyche. We begin the show by meeting Catherine, a renowned feminist scholar (played by Jennifer Coombs) who has returned home successful and single to take care of her mother (played by Mary Ann Thebus) who has recently had a heart attack. After being away for many years, she reunites with her former roommate (played by Karen Janes Woditsch) and former boyfriend (played by Mark L. Montgomery) who are now married with children. The two former roommates play both extremes of the fundamental question and lead the audience on a journey of "the grass is always greener." What if you didn't have to be a wife and mother anymore and could be free to explore what might have been? What if that you could sacrifice your beliefs (if not your career) for the love you once lost? It is these questions – that many of us have had and pondered – that we get to watch unfold on the stage.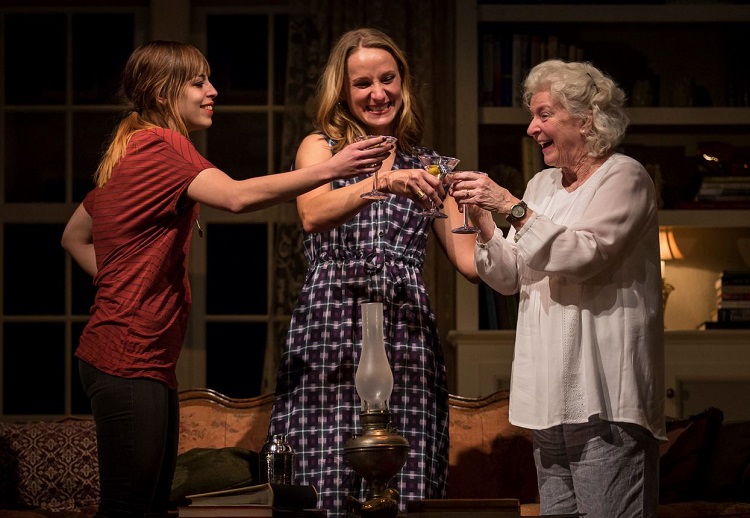 One of the most exceptional qualities of this show is that it makes you think while you are laughing. Played with an inside humor and enjoyment, Cassidy Slaughter-Mason (as babysitter Avery) embodies the teenager in all of us – saying the things that we may have thought as a younger or college-aged person. We as women are in charge of ourselves and can manipulate a situation even if we are being manipulated in return. Is that healthy? Is that "normal?" Do we deserve more?
If you plan to see a play this season, I highly recommend Rapture, Blister, Burn. These questions are generational questions and ones that we need to keep asking in order to find some answers.
Goodman Theatre: Rapture, Blister, Burn Chicago Review – Rapture, Blister Burn is playing at The Goodman Theatre through 2/22/15. Tickets can be purchased through the Goodman Theatre box office online or by calling (312) 443-3800. Goodman Theatre is located at 170 North Dearborn in Chicago.
Summary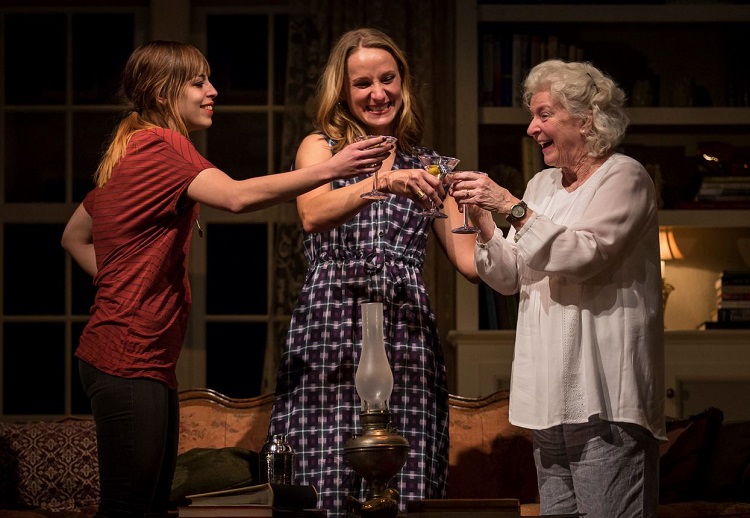 Article Name
Description
Goodman Theatre's "Rapture, Blister, Burn" is a play that answers and asks the questions that women are faced with - motherhood, career - what's right?
Author