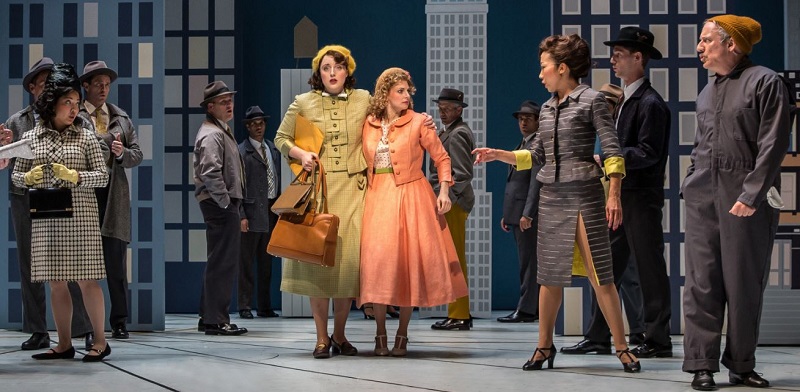 Fun, vibrant and full of life, Goodman Theatre opens it's brand new show Wonderful Town with lots of personality. This musical – composed by Leonard Bernstein and based on the play My Sister Eileen – is about two starry-eyed sisters who move from small-town Ohio to the big city of New York. Ruth is shy, straight-forward and has always dreamed of being a writer and Eileen – an aspiring actress – can't walk down the block without attracting the attention of men and women alike. Pair these ladies with the reality of city life and a great score and you have and winning experience.
As always, Goodman's spectacular sets immediately catch your eye. Made up of people-sized buildings that roll as needed, the audience is met with a bright and miniature Greenwich Village. This city is alive with people, airplanes, clouds and more (cockroaches anyone?) and you feel the vibe pulsing throughout the town. Cleverly, once Ruth and Eileen are escorted into their apartment, the stage rises as they walk down the stairs to show the (not so) exquisite apartment. Simply fantastic.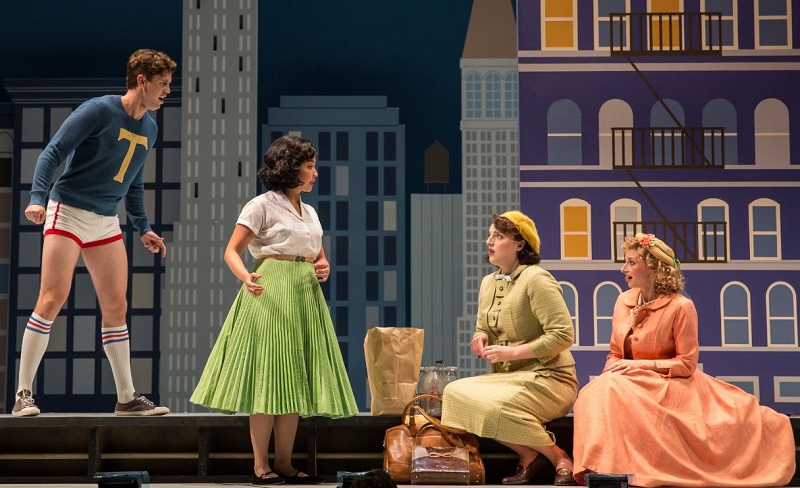 All of the characters that we meet are quirky and interesting, including both Ruth and Eileen. Bri Sudia's wry delivery as Ruth makes you relate to her, feel for her and laugh with her. Lauren Molina's Eileen is feisty, fun and a bit frivolous, but also warm and enjoyable. Karl Hamilton's Robert Baker is someone you spend the first few scenes sizing up, but his concern and authenticity towards the women and about Ruth's talent make way for a very likeable man. The supporting players (including Jordan Brown as the daft Wreck and his adorable bride Helen, played by Kristin Villanueva) are all entertaining and help to propel the story forward.
Some of the choices that director Mary Zimmerman made with this show are priceless. I won't share too much so as not to ruin your experience, but let's just say that when Leonard Bernstein was composing this score and Joseph A. Fields and Jerome Chodorov were writing the book, these aren't things that had ever occurred to them. My favorite instance was a scene change that involved a crate full of items for the next scene which was lowered down to above the middle of the floor – and the crash of all of it's contents onto the stage. The cast proceeded to set up the stage accordingly and continue on with the show. Hilarious, unusual and absolutely entertaining.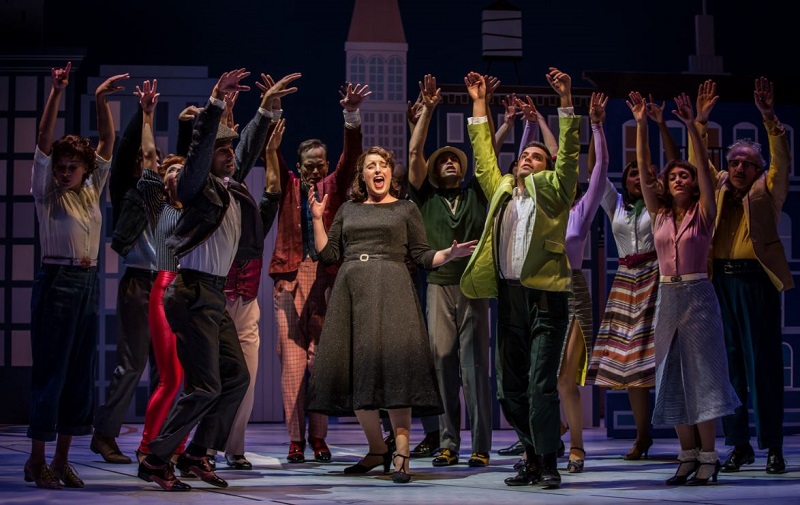 The score of Wonderful Town is extremely witty. The writing is top notch and the acting choices push the words even farther. When the sisters sing the famous "Ohio" and then the reprise, you can't help but laugh at their pain. Ms. Sudia's delivery of "One Hundred Easy Ways" is hilariously on point and "Swing!" loosens our main character in the perfect way.
Wonderful Town is energetic, extremely bright and a really good time. The characters are entertaining and the actors are engaging. The sets are beyond amazing and there is always something new to look at. This is a great show that you should make the time to see.
Goodman Theatre: Wonderful Town Chicago Review – Wonderful Town is playing at The Goodman Theatre through 10/23/16. Tickets can be purchased at a discount through Goldstar or by calling (312) 443-3800. Goodman Theatre is located at 170 North Dearborn in Chicago.