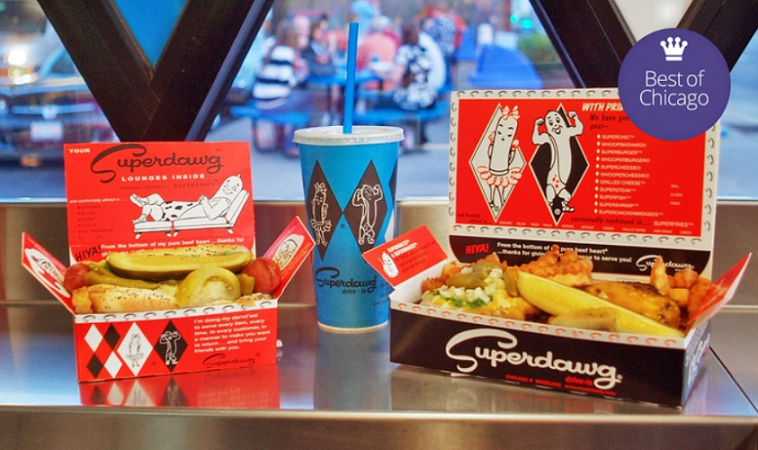 Chicago is the city of food and one of my favorite haunts is Superdawg! Many Chicagoans have been visiting Superdawg since they were kids and there is good reason. Superdawg was built by high-school sweethearts Maurie and Flaurie Berman in 1948 and is still owned by the same family. I've spoken with one of the grandchildren in the past and I can tell you that they have been involved in neighborhood support in the way of block parties and other organization donations.
You have your choice of walking up to the counter (which didn't have a wind shelter when I was a kid, but now it does) OR having a little bit more fun and eating at the car-hop (complete with server window-hanging tray!) Best of all for us, they also offer Superdawg Drive-In deals from time to time!
Currently you can get a $20 Superdawg gift certificate for only $10! This is good whether you decide to eat at the car-hop or go through the line. I always order extra tomato pickles (my favorite since I was a kid) and there is just enough room in the hot dog box to fit them. Yes, if you've never been to Superdawg, your order (whether hot dogs, burgers or something else) comes in a box stuffed with fries. And I can't tell you exactly why, but that box makes everything taste better!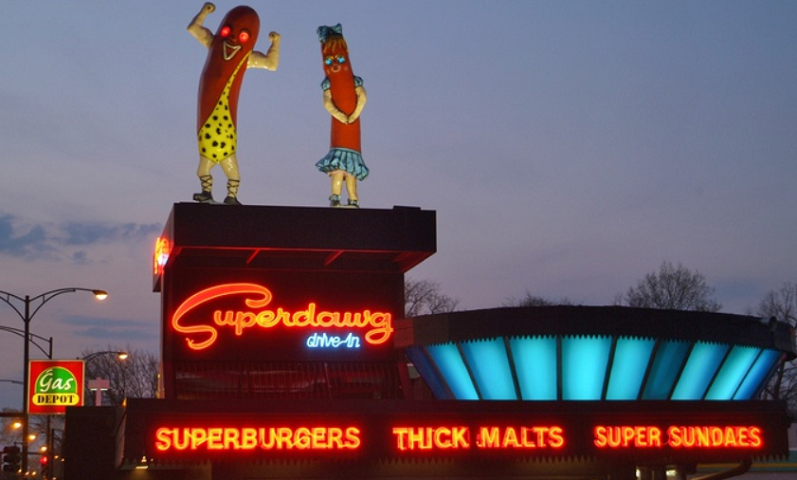 One last thing that you have to know about Superdawg – If you plan to order a hot dog, don't bother ordering it with ketchup! They won't add it for you, but they will provide you with packets on the side. That way you can do the dirty deed yourself.
Whether you are a Superdawg regular or you've always wanted to check it out, be sure to take advantage of the Superdawg Drive-In deals while you can! Superdawg is definitely on the list of Chicago restaurants that you have to visit!