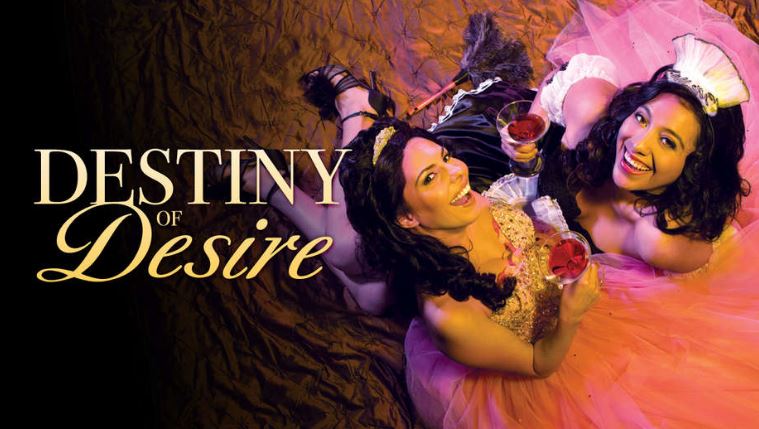 Whether you have watched your share of telenovelas or have only been exposed to spoofs of them during episodes of Ugly Betty, Goodman Theatre's Destiny of Desire is about to open your eyes to a whole new kind of production. Destiny of Desire is a telenovela that is set on stage, complete with touches that you may not have seen before. The triple-threat cast is lively and entertaining to watch, making this production a unique experience.
The show actually begins before the curtain, as the actors are on stage "warming up" while others mingle with the audience. The actors shake hands and chat with the patrons, making the audience feel more included in the upcoming experience. The actors on stage are doing everything from vocal exercises to stretches to having a chat with another member of the cast. As the beginning of the show approaches, and instead of the usual pre-recorded taping asking people to turn off their cell phones, one of the actors gives the instructions – complete with telling you that you can unwrap your candy anytime.
Destiny of Desire is about two couples (one wealthy and famous, the other very poor) who both give birth to babies at the same hospital and – for various reasons – the doctor switches the children so that they are raised by the opposite families. The only person aware of the switch – other than the doctor and a nun – is Fabiola Castillo (played by Ruth Livier, a standout), one of the new mothers and rich wife of a casino owner. Having a strong baby to present to her husband is all that matters to her and she will do whatever it takes to make that happen, even switch her baby with another at birth.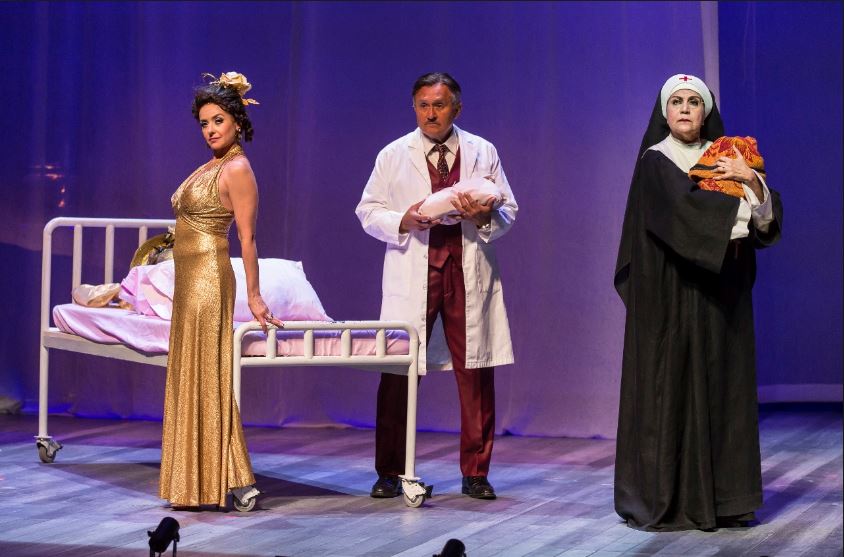 As the baby girls grow up, our poor mother, Hortencia, goes to work for the rich couple and mothers their child (neither of whom know that this is her biological child) while at work. Fabiola has come to despise her daughter and wants nothing more than for her to appreciate all that she has been given. Hortencia's daughter, on the other hand, (who is the biological daughter of the rich couple) wants to be a doctor, but has no money with which to go to school. When Hortencia is put in jail for killing Dr. Mendoza (the doctor who secretly switched the babies and was also in love with Hortencia), her daughter goes to work for the Castillo household. The girls meet and – let's just say that some secrets shouldn't be kept!
Destiny of Desire has moments of hilarity and such utter goofiness that one can't help but laugh throughout. As this is supposed to be a show on an empty Chicago stage, the cast members do all of the scene changes themselves, all the while flitting and dancing like pretend angels. Each scene is defined by a new title that is displayed on a hand-held blackboard and read by a cast member. Mid-scene, the action will often stop and a cast member (who had been in the wings) will speak a fact into a microphone ("About 28,000 babies get switched in hospitals every year, temporarily or permanently") or a scene will "rewind" and you will watch the characters replay what you just watched. In short, silliness abounds.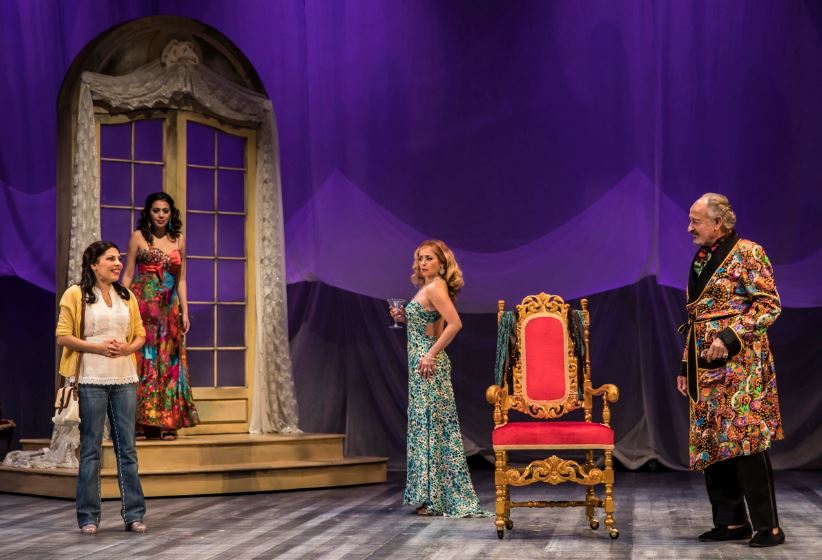 The one major weakness in the show is that it felt uneven. While much of the show is silly, lighthearted, and fun, there are scenes and songs that are much more serious. And while I believe that these were well-intended plot points, it makes those moments in the show fall flat. After enjoying the outrageousness of a woman giving birth in a gold dress, dying on the table and being brought back only to switch her baby with another and have her hair done before her husband arrives (all in about 8 minutes), it is a tough transition to then be listening to a heartfelt song about a father wanting his now-adult child to live after fainting in the desert.
Destiny of Desire is a fun show with a very talented cast. There are a few hiccups in the play itself, but the singing, dancing and joyousness of the performances will have you laughing right up though the very last scene. This telenovela will take you on a journey like no other.
Goodman Theatre: Destiny of Desire Chicago Review – Destiny of Desire is playing at The Goodman Theatre through 4/16/17. Tickets can be purchased at a discount through Goldstar or by calling (312) 443-3800. Goodman Theatre is located at 170 North Dearborn in Chicago.