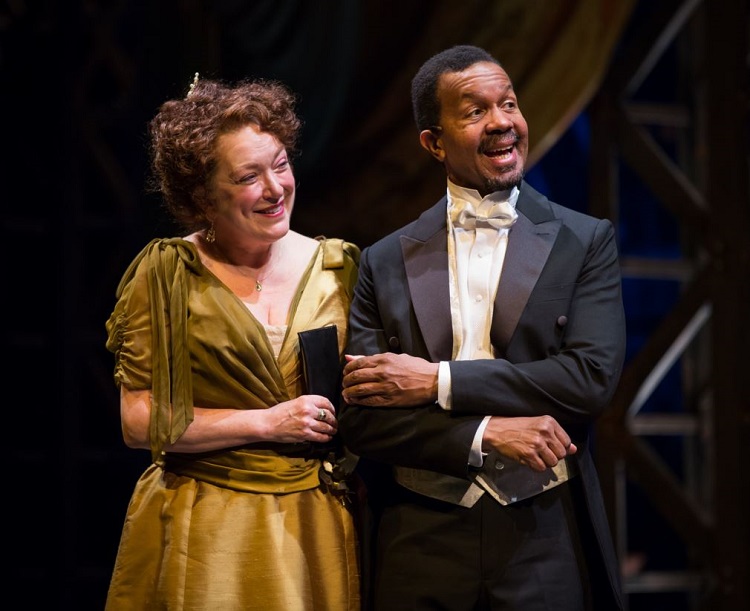 Hello, Dolly! is often the first thing that people think of when hearing of Thorton Wilder's comedy The Matchmaker. And while the Goodman's production of The Matchmaker is entertaining, the acting entrancing and the costumes rich with flavor, the piece is sometimes lacking the same charm as the musical.
The Matchmaker is a story about a cranky 60-year old single man named Horace Vandergelder (played by a gruff and feisty Allen Gilmore) who is looking to be married and the matchmaker Dolly Gallagher Levi (played by Tony Award Nominated actress Kristine Nielsen, whose physicality hilariously expresses more than words) who plans to marry him off – to herself. Upon leaving to meet a potential bride, Vandergelder leaves his head clerk Cornelius Hackl (a comical Postell Pringle) in charge of his shop and his other employee Barnaby (scene stealing Behzad Dabu). When the employees leave to have their own adventure and meet up with Vandergelder's date Irene Molloy ( a strong and magnetic Elizabeth Ledo), hilarity ensues.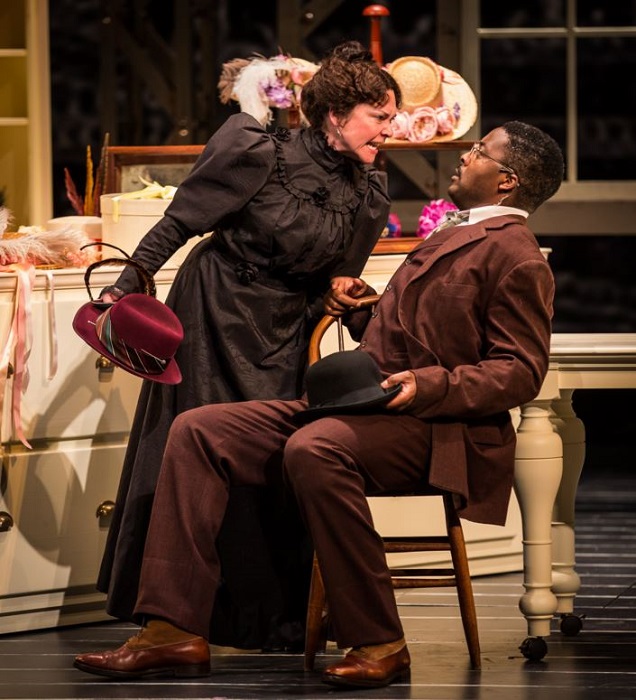 The physical comedy and engagement with the audience brought the show to new heights. In one drawn out bit, Pringle's Hackl slowly crawls along the floor so as not to be seen by another character. Milked for every laugh, this kind of physical comedy and relationship with the audience kept one enchanted through many moments. Also establishing a comfort level with the audience, the cast was peppered with racially diverse, physically challenged and transgender performers. A progressive move in such a way that it shouldn't be progressive and will hopefully no longer be in years to come. In this reviewers opinion, this type of casting should be the norm and kudos to Goodman for casting talented performers without bias.
With all of the positive attributes of the show, there were times that felt very dry – particularly in the fourth act of the show (the second half of the second act). It is at this point that all of the cast members convene at Flora Van Huysen's home (a quirky Marilyn Dodds Frank) to sort out what has happened, what should happen and who is who. Moments of this act are extremely entertaining and funny, but with the 2 hour and 45 minute play coming to a close, there are moments of exposition that felt unnecessary and sluggish. Granted, this is an issue to take up with Mr. Wilder himself, but since he's not here to take to task, it's potentially something that every production will struggle with.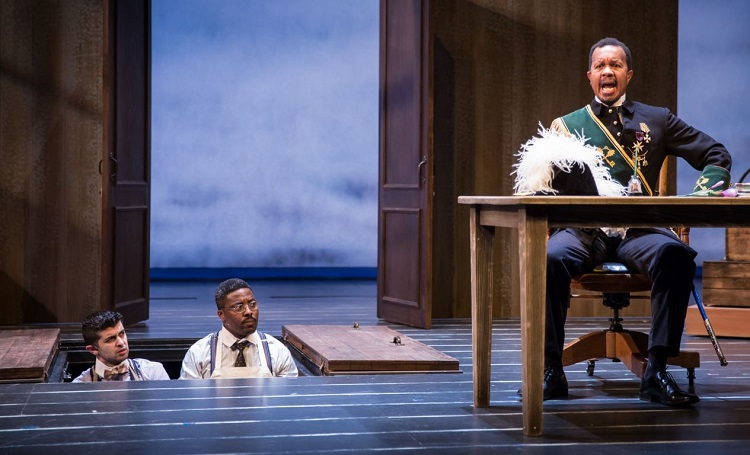 All in all, The Matchmaker is a show that will have you laughing both at the talented cast members and the script. The physical comedy, snarkiness and slyness of the characters make for an entertaining experience, just be sure to persevere through the slower moments and the matchmaker will have done her job.
Goodman Theatre: The Matchmaker Chicago Review – The Matchmaker is playing at The Goodman Theatre through 4/10/16. Tickets can be purchased at a discount through Goldstar or by calling (312) 443-3800. Goodman Theatre is located at 170 North Dearborn in Chicago.