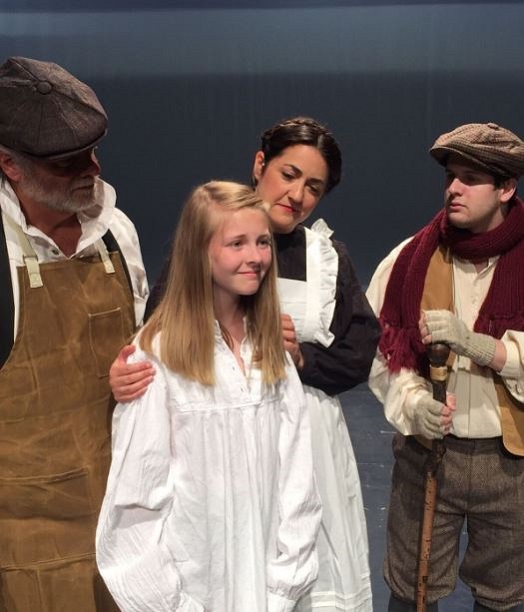 The Lake Forest Theatre's new show The Secret Garden is the inaugural production for both this company as well as their newly renovated space (in the Nancy Hughes Theater in downtown Lake Forest.) With a new company and a new space comes a huge responsibility of starting off on the right foot and choosing the right show. In my opinion, they did just that.
The Secret Garden (a classic by Frances Hodgson Burnett turned into a musical by Marsha Norman and Lucy Simon) is the story of Mary Lennox, a young and spoiled girl who is sent to live with her uncle after her parents die from a cholera outbreak in India. Uncle Archibald Craven is a shut-in who is stricken with both a hunchback as well as a grieving heart and has no room left within to offer any love. With the help of a secret garden and some enchanting other characters, they each find their way to a happier ending.
While this cast is full of talent, there are a few standout performances that are noteworthy. Edward Fraim's Archibald Craven is full of passion and loss with every note he sings, every bit of eye contact on the stage. Dustin Rothbart's Dickon embodies the heart of the Moors of Yorkshire and the central connection to nature, all with a knowing smile. Kailey Albus, Zachary Fewkes, Michelle Jasso, Elizabeth Mazur and Edward MacLennan each had moments where they enchanted the audience and the ensemble gave several goosebump-inducing turns.
All in all, The Secret Garden is an entertaining musical for adults and kids alike. Rediscover the magic with this classic of a show.
Lake Forest Theatre: The Secret Garden Chicago Review – The Secret Garden is playing at Lake Forest Theatre through 7/2/16. Tickets can be purchased by calling (847) 604-4975. Lake Forest Theatre is located at 400 E. Illinois Road in Lake Forest.