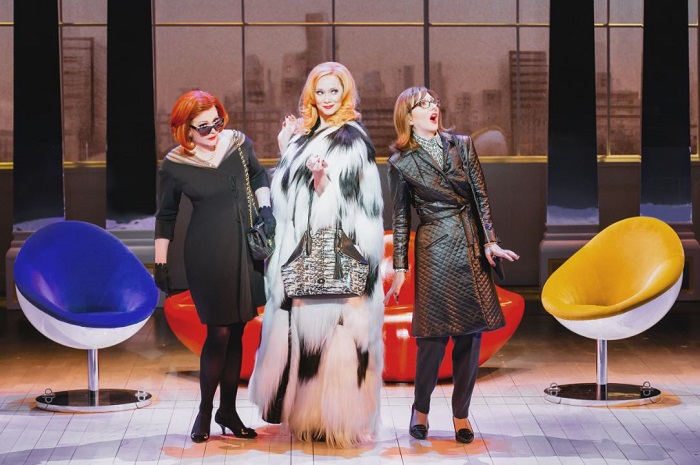 If you have ever watched the First Wives Club movie and didn't think it was possible to turn it into an entertaining musical, you were wrong. First Wives Club made it's Pre-Broadway debut on our Chicago stage at the Oriental Theatre this past Wednesday with a full house and lots of applause. This was a show marked with the attendance of the great Motown legends Holland-Dozier-Holland and director Simon Phillips as well as other notable names and producers, all of whom could not have looked more pleased to see their show up and running.
First Wives Club is a story about four college girlfriends who promise to live their lives side by side, through marriage, children and anything else that should come. Years later, after falling out of touch – and mourning the death of one of the original four – the three remaining friends find each other and reconnect. After initially glossing over the problems in their marriages and lives, all three women find that they are in failing relationships, turn to each other for support and – eventually – revenge on their husbands.
The show started with an upbeat musical montage that introduced the audience to the girls as they were graduating college. You got to watch them meet their husbands and get married while singing familiar songs like "Reach Out" and "Can't Help Myself (Sugar Pie Honey Bunch)." Then we met our leading ladies as adults. Tony Award-winner Faith Prince as Brenda, Wicked star Carmen Cusack as Annie, and Mamma Mia's Christine Sherrill as Elise were all forces to be reckoned with, both separately and together. All three had excellent timing, clearly loved their characters and had voices that gave you goosebumps (more than once). In fact, every single member of this cast was on point and gave it their all. Even better, they were having fun, and that translated very clearly to the audience.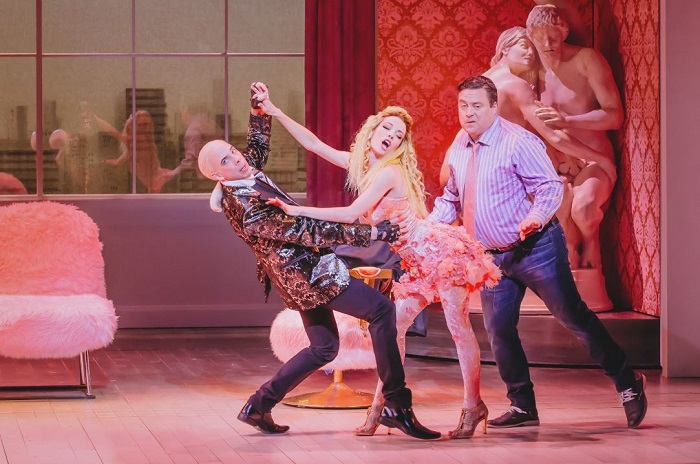 Two standout supporting actors who deserve some extra acknowledgement are Patrick Richwood as Duane Fergusson (Brenda's friend) and Morgan Weed as Shelley Salem (Morty's girlfriend). These two actors stole every scene that they were in and had the entire audience in stitches. Given two of the most quirky roles in the show, both of these performers used every moment to make their mark and often had the audience laughing well after each bit was finished. Watching a show is that much more entertaining when you know that the actors are having just as much fun as you are.
The few issues that I had with this production were with some of the musical numbers. While most were upbeat fun or intense ballads that drove the story, no versions of the "I'm So Lucky" numbers seemed to work. The first turn was just after the three leading ladies reconnected. As they glossed over any problems in their lives, they sang about how so very lucky they were. While the information needed to get to the audience, the song itself never seemed to gel or flow. It felt clunky and not as musically tight as the montage that we'd just been privy to. It's easy to forgive one number (as in most shows, there are always stronger and weaker songs), but when it returned again in the second act (sung by the men), it still lacked flow. Let me be clear, the performers sang and joked their might out of these songs, but the musical numbers as they were written didn't leave me feeling invested in the show.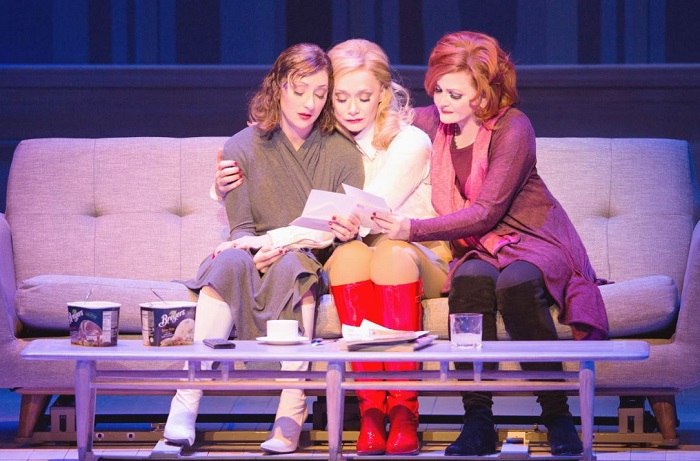 Both the sets and lighting also drove this production. One of the unspoken characters throughout the show was the large crisscrossed windowpane that opened and closed at the back of the set. This set piece is in Cynthia's opening scene as she feels that there is nothing left to live for as well as in the apartments and locations of the other women. It served as a subtle reminder of needing to be freed from a cage and served the story very well. Also, towards the end of the show, each of the three women (in spotlight) and their respective husbands sing together, yet the men are lit in blue. This is a beautiful moment of separation while attempting to to find their place in each relationship.
All in all, First Wives Club is a show worth seeing. The voices are powerful, the actors are hilarious and the sets move gracefully throughout every scene. You'll find yourself recognizing Motown classics and hear them repurposed in great ways. Make sure to see this show while it's in Chicago!
Oriental Theatre: First Wives Club Chicago Review – First Wives Club is playing at the Oriental Theatre through 3/29/15. Tickets can be purchased through Goldstar at a discount.